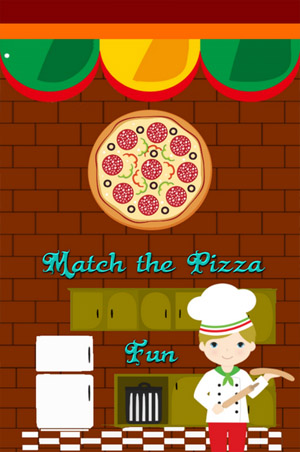 Tag:
PlayBook
Match
Overview :
Pizza Games For Kids: Match v1.0.1 for blackberry games
Yummy….If your little one loves pizza and likes to play easy cooking games, then this is perfect place. Pizza Game For Kids: Match is an easy match the pair games for kids. Kids and adults too can enjoy playing it.
OnHappyDays brings another exciting game - Pizza Games For Kids: Match. Your little one will be happy to see five colourful, tasty and delicious pizzas. Your little fast food lover will jump with excitement with this pizza shop timed match it game. The matching game is designed for 3 years and up.
The pizza game for kids is a timed matching game.
First level of the game is 100 seconds and each level after that is 10 seconds less, so the kids can improve and do better each level. There are only 5 different pizza, so your little cook can take time to see, identify each pizza color and its toppings, which make the game more interesting.
It's not all, another special feature of pizza restaurant games makes it even exciting than just matching app. Kids must find the pizza matching pairs!! Match the pair of pizza of same type. Once they do make a linked match, the pizza match games app shows them the link. One will hear adorable game background music too.
Game Features –
• Tap to select the Pizza pictures.
• Timer to complete each level
• First level is of 100 seconds and it decreases by 10 seconds from next level onwards.
• Click the 'Refresh' button to rearrange the Pizza pictures.
• Click the 'Find' button to remove next possible matches from the puzzle board
• Colorful and delicious looking pizza pictures
• Adorable music to make Pizza Games For Kids: Match more enjoyable.
How To Play –
• Select a Pizza picture
• Select another matching Pizza picture such that it forms a straight line. The icons should NOT be diagonally placed. It should form a link or a line.
• Complete the level by clearing the board.
Let's have fun with this awesome fun learning Pizza Games For Kids: Match game from OnHapppyDays.
Supported Devices:
BlackBerry Leap
BlackBerry Z10
BlackBerry Z3
BlackBerry Z30
PlayBook
Porsche Design P9982