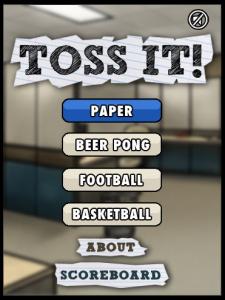 Tag:
Toss It
Overview :
free Toss It! v1.0.28 for blackberry games download
Model:
Blackberry 82XX Series (240*320) Pearl Flip Devices Models: 8200, 8220, 8230/Blackberry 8350i (320*240) Related Devices Model: 8500, 8520, 8530, 9300(Kepler), 9330/Blackberry 83XX Series (320*240) Curve Devices Models: 8300, 8310, 8320, 8330 / Blackberry 87XX Series (320*240) Devices Models: 8700c, 8700r, 8700f, 8700g, 8703e, 8707, 8707g, 8707v .etc /Blackberry 88XX Series (320*240) Devices Models: 8800, 8820, 8830 .etc /Blackberry 89XX Curve Series (480*360): 8900(Javelin), 8910(Atlas), 8930, 8950, 8980
Description:
Toss It! is new from Smarter Apps, makers of award-winning apps for BlackBerry® smartphones.
Play against yourself tossing a variety of objects at the intended targets and score points for each success! With four levels of play, you'll find a new challenge awaiting with each new projectile and target. Looking to pass the time with some classical paper toss in the office? Perhaps you'd like to test your skill on the football field, and toss that ball across the green? Beer pong presents a new challenge, demanding careful accuracy to land your ball in a small cup while a fan whirls and threaten to whisk the ball away. Out on the court, you can test your skills at basketball, tossing the ball far across the length of the court for the satisfying swish of a score. Your best score is always available, which retains itself even after you quit, challenging you to achieve even greater results than before! Share you score online with all your friends using the feature through the high score screen.
How to play:
On a touch device, simply swipe in the desired direction of your toss.
For touch pads or scroll wheels, simply wait until the arrow is where you wish to direct your toss, then click!
Keep your score up! The levels can be played as much as you want, see how far you can outdo your own previous score! There is no limit so play as little or as much as you want.
Don't forget to adjust for the crosswind, as the object will curve based on the strength of the wind, or you'll be swept away. Wind strength is shown by a number.

There are four levels of play:
Toss a piece of paper into the waste paper basket at the office.
Kick a football through the uprights at the stadium
Drain the free throw with a basketball
Sink the ping pong ball into a beer cup on the beer pong level
Features:
Four action-packed game levels (Paper Toss, Football Kick, Basketball Toss and Beer Pong)
Engaging special audio and video effects
Supports BlackBerry® OS 4.6 devices and above
free upgrades to all existing customers forever
We hope that you enjoy playing Toss It! and we welcome your feedback for improving Toss It!
If you like Toss It! please write a great review. It will help us to keep improving Toss It! for BlackBerry®!
If you have any problems starting the app, please visit http://support.smarter-apps.com and we will assist you getting setup.