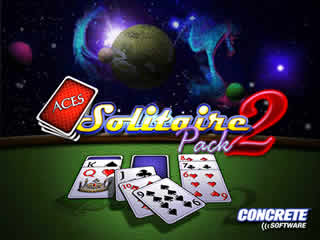 Tag:
Solitaire
Aces
Overview :
free Aces Solitaire Pack 2 v2.08 games for blackberry
Description:
The best-selling Aces line brings you the 40 most popular solitaire games – Klondike, Free Cell, Spider, Pyramid, Forty Thieves, Scorpion and more! This game is loaded with features – tons of stats, game options, online leaderboards, and enhanced graphics. Play your favorites or try them all!
Aces Solitaire Pack 2 is the newest version of the best-selling game Aces Solitaire Pack. The new game makes game play easier than ever allowing you to have more fun while learning new solitaire games. With the ability to set your preferences for each solitaire game, you can play solitaire the way you like it. Aces Solitaire Pack 2 tracks tons of statistics including score, time, and number of moves. It is equipped with online leaderboards, making it fun and easy to compete against your friends and others.
We pride ourselves in bringing you high quality games, including intense attractive graphics, and the best game play. This combination makes Aces Solitaire Pack 2 one of the best games of the year for your BlackBerry. We provide ongoing support and regular updates to ensure our users are completely satisfied.
Features:
* 40 Solitaire games
* Online Leaderboards for each game: personal, daily, weekly and overall
* Settings for each game (i.e. number of draws and number of deals)
* Provides difficulty rating for each game
* Undo/Redo moves
* Auto moves can be turned on or off
* Tracks score, time and number of moves during game play
* 7 unique backgrounds to choose from
* Can resume game or select a new game for each session
* Stores statistics for each game, current game, current session, and overall
* Can reset statistics and scores
* Instructions provided for each game
* Glossary of commonly used Solitaire terms
* Sound and background options
* Attractive graphics
Model:
Blackberry 8350i (320*240) Related Devices Model: 8500, 8520, 8530, 9300(Kepler), 9330/Blackberry 83XX Series (320*240) Curve Devices Models: 8300, 8310, 8320, 8330 / Blackberry 87XX Series (320*240) Devices Models: 8700c, 8700r, 8700f, 8700g, 8703e, 8707, 8707g, 8707v .etc /Blackberry 88XX Series (320*240) Devices Models: 8800, 8820, 8830 .etc