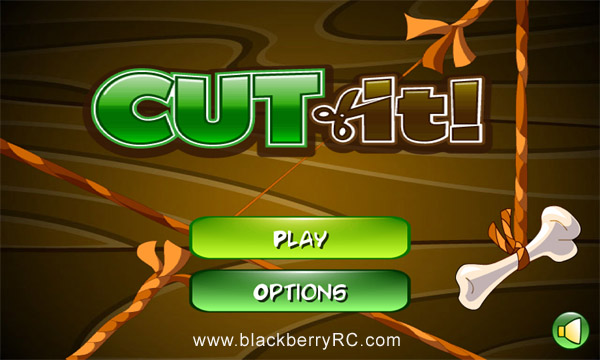 Tag:
9850 games
9860 games
Cut It
Overview :
free Cut It v1.7.2 for BB 9850,9860 torch games
File Size: 2.92 MB
os 7.0


Description:
108 TRICKY LEVELS IN 3 DOG HOUSES!
Puppies grow so fast! Puppies are always hungry! Feed your Puppy with a bone, a sausage or a pizza hanging on the thread. Cut threads with your finger and avoid obstacles to deliver a tasty snack to your Puppy's belly.
Think out of the box to collect as many stars as possible. The more stars you collect - the better. Use collected stars to unlock other levels.
FEATURES:
- 108 tricky levels and much more to come;
- perfect graphics and sounds;
- cute character;
- realistic gameplay physics;
- option to select different snacks: bone, sausage, biscuit, or pizza (click a snack on the start screen);
- BlackBerry Messenger™ integration: share your achievements via BBM™.
You will definitely enjoy this challenging and funny puzzle!
NOTE: if your phone's screen is not touch-enabled
- Use trackpad to move the "hand" pointer.
- Move trackpad while holding any key to cut threads.
- Click trackpad to pop flying bubbles under the "hand" pointer.
- Click green hotties to blow snacks.
IF YOU EXPERIENCE PROBLEMS DOWNLOADING OR INSTALLING this application, please follow these links for the detailed instructions on how to fix this:
http://bit.ly/cantdownload
or
http://www.blackberry.com/btsc/KB24714
You should be able to reinstall the application at no cost after doing this procedure.

i hope you like it. enjoy!!