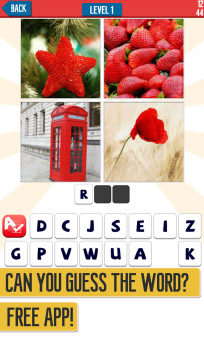 Tag:
Guess Word
Overview :
The game will show you 4 pics and your goal is to figure out what they have in common. This sounds easy, but some puzzles can be tricky. If you like word games, you'll love this game too!!
FEATURES
* 18 levels with 426 words!
* It's FREE! No additional costs for In-App Purchases!
* Simple and highly addictive game for the whole family!
* Awesome graphics. Super easy to use for all ages!
* Instant Fun! No registration required, No Tutorial - Enjoy the puzzle immediately!
* No internet connection required to play!
HOW TO PLAY?
Look at the four pics and find out what they have in common - Use the letters to make a word and beat the level!
Supported Devices:
BlackBerry Z10
BlackBerry Z3
BlackBerry Z30
Porsche Design P9982