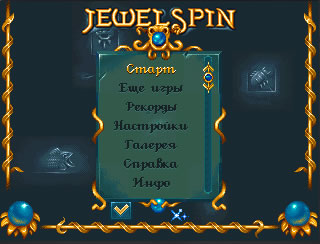 Tag:
81xx games
Jewel
Spin
Overview :
Jewel Spin for 71xx,81xx games
Model:
Blackberry 71XX Series (240*260) Devices Models: 7100, 7110t, 7105t, 7100r, 7100v, 7100g, 7100x, 7100i, 7130e, 7130c, 7130g, 7130v/Blackberry 81XX Series (240*260) Pearl Devices Models: 8100, 8110, 8120, 8130
Description:
The goal of the game is to clear jewels, just like other 'Match-3' games, but the way to match is unique. You must spin and rotate a wheel. Here you can play altogether 100 levels through 4 different game modes: "Puzzle", "Custom Game", "Arcade" and "Free Play". In the "Puzzle" mode, you have only a limited number of moves to clear the screen. "Free Play" is played just according to what it is called; You have infinite time to play in order to achieve high scores. While the "Arcade" mode requires you to make a chain of at least 5 balls to destroy any color of jewels. You can access the "Gallery" from the main menu. The backgrounds in the "Gallery" can be unlocked by playing "Custom Game". The surrounding is set in the sea.. the deep sea, it looks to be.
What's more, there are many special items in the game. The "lattice" restricts the area that the jewels can be placed. The "bomb jewel" can destroy all near-by balls if it is activated. The "super jewel" looks to be colorful, which can match any color of the other jewels. You can also see a "clock ball", which can stop time for a few seconds; this is very useful in the "Puzzle" mode.
Gameplay:
The control is different from other Match-3 games. You use a big "wheel" to place the jewels into their needed positions. Press the "5" key or central button of the D-Pad to select the jewels. Then you can rotate the wheel clockwise or counter-clockwise to get jewels matched. Once you make your move, press "5" again to stop the wheel. The jewels will be cleared automatically. To move the wheel, you must press the directional keys, "2", "4", "6" and "8".
In some game modes, there will be new jewels that fall from the top of the screen, continuously. You cannot control where they will land after falling. Because they fall straight to the playing area, you must clear them before they reach the limit line.
Conclusion:
Puzzle games by Herocraft are always worth playing. Though the graphics, in their own style, are not very polished. But the gameplay is not bad. Keep in mind, this game is still very new, and could possibly be much more refined when it reaches wide-release. Has this game already aroused your interest?.. Stay tuned.