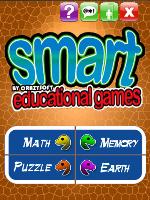 Tag:
Smart
Educational
Overview :
Smart Educational Games v1.4 for 9500,9800 games download
Description:
Smart Educational Games is a pack that helps you learn world Geography, improves your memory, your mental awareness and your calculating speed. Specially designed for both grown-ups and kids!
Smart Educational Games was designed for both grown-ups and kids, and the difficulty of all games can be changed with the press of a button. It features 5-way navigator support and you can export your high scores to the Internet.
Improve your geography knowledge. Smart Educational Games contains a pack of map games for the United States, Europe, Africa, the Middle East, Asia, Central America and South America. In these games, you must find states, countries and capital cities on a map. Your score will be based on how quickly you can identify locations on the map. If you have questions, help is available.
Improve your memory. Thanks to our memory game, you can improve your memory over time.
Improve your mental awareness. An addictive puzzle game with many different images helps you use your brain.
Improve your calculation speed. These may look like simple games, but they are very sophisticated and educational. You can improve your calculation speed with addition, subtraction, multiplication and division.
Model:
Blackberry 95XX Storm Series (360*480):9500, 9510, 9520, 9530, 9550(Storm2), 9800(Torch)