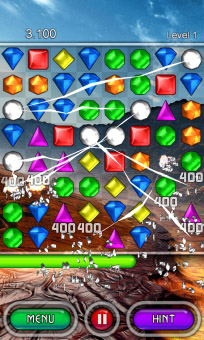 Tag:
Bejeweled
Overview :
Bejeweled is a classic SanXiao game,it is famous for its magnificent effect, the tense atmosphere and variety of gameplay. Recently, the game of the second generation landed BlackBerry Z10.The fist generation have been a lot of attention, we believe the second generation more interesting than the first generation. Game price is $2.99. Frieds who Like SanXiao games , absolutely not to be missed.

File Size: 35 MB
Required Device Software BB10 Smartphone: 10.0.0 or higher

Description:
Now get the fan-favorite BEJEWELED 2 on the Blackberry 10. Play 3 different ways – anytime, anywhere.
Match sparkling gems 3 at a time to make them burst in showers of vivid colors and points. Blast 4 or more to create power gems that boost your score and your mood with brilliant cascades and combos.
Soar to gem-matching heights in Classic mode, or speed through matches against the clock in Action mode. For more high-carat fun, enter the Zen state of Endless play. And if you can't spot the next match, hints-on-demand can help!
Are you ready to be dazzled by BEJEWELED 2?