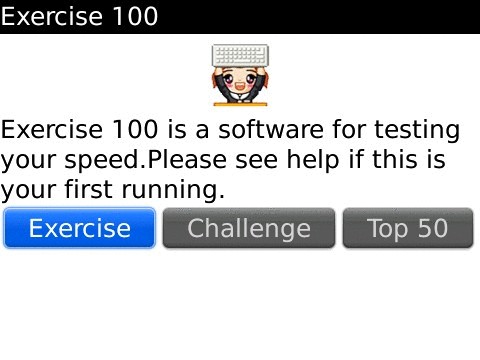 Tag:
Exercise
Overview :
free Exercise 100 v1.31 for blackberry games download
Description:
Exercise 100 is a software for testing your speed.You can exercise your speed in Exercise mode.That will take 100 sentences by random. And in Challenge mode, it will take random words of random sentences.You can even upload your score to rank list if enough fast.
1.31 version:
Support Wifi.
Fixed hangup bug.
Fixed speed value is not correct sometime.
Add Chinese translation for learning Chinese.
Add match mode for match. (Rank will be reset before each match.)
Add Build-in check update.
1.2 version:
100 randoms sentences.
2 modes.
It is a learning book(more than 7000 words) for you if your motherlanguage is not english.
An online Top 50. You can see others speed.
Checkupdate build-in.
Minimum requirements:
Operating System
4.2, 4.3, 4.5, 4.6, 4.7 Non-Touch, 4.7 Touch Screen, 5.0 Non-Touch, 5.0 Touch Screen, 6.0 Non-Touch, 6.0 Touch Screen
Model:
Blackberry 81XX Series (240*260) Pearl Devices Models: 8100, 8110, 8120, 8130/Blackberry 82XX Series (240*320) Pearl Flip Devices Models: 8200, 8220, 8230/Blackberry 8350i (320*240) Related Devices Model: 8500, 8520, 8530, 9300(Kepler), 9330/Blackberry 83XX Series (320*240) Curve Devices Models: 8300, 8310, 8320, 8330 / Blackberry 87XX Series (320*240) Devices Models: 8700c, 8700r, 8700f, 8700g, 8703e, 8707, 8707g, 8707v .etc /Blackberry 88XX Series (320*240) Devices Models: 8800, 8820, 8830 .etc /Blackberry 89XX Curve Series (480*360): 8900(Javelin), 8910(Atlas), 8930, 8950, 8980/Blackberry 90XX Bold (Onyx) Series (480*320) Devices Models: 9000, 9020(Onyx)/Blackberry 96XX Tour (Niagara) Series (480*360):9600, 9630, 9650(Tour2), 9700(Bold2), 9780, Dakota, Apollo /Blackberry 95XX Storm Series (360*480):9500, 9510, 9520, 9530, 9550(Storm2), 9570(Storm3), 9800(Torch), Torch2/Blackberry Pearl 3G Series (360*400) Devices Models: 9100, 9105, 9670(Style)