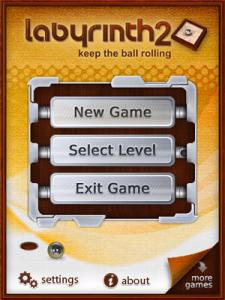 Tag:
Labyrinth
Overview :
Labyrinth v2.2 Lite - for blackberry 9800 torch games download
Description:
If you've enjoyed labyrinth games in the past, Labyrinth 2 is a must-own.
Labyrinth – classic wooden labyrinth game where you control a steel ball to find a way to finish hole.
What's new in 2.0:
Levels for beginners;
2 types of the field;
Over 80 new levels (quiz, maze, speed levels);
New elements: buttons, lasers, gates and magnets;
New game effects.
Main features:
Very simple to play but addictive!
Efficient algorithm of physics simulation
About 16 levels and more than 10 games in one level, 200+ games in current release!
A lot of interaction objects – blocks, holes, locks and others…
Find and collect all the keys to open all the doors on the way to the finish
Accelerometer calibration
Sounds and vibro effects
FREE update for registered users! New levels in every release and many more...
Model:
Blackberry 95XX Storm Series (360*480):9500, 9510, 9520, 9530, 9550(Storm2), 9570(Storm3), 9800(Torch), Torch2