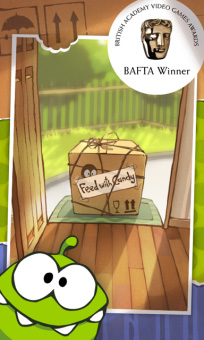 Tag:
BB10
Cut the Rope
Overview :
Cut the Rope have been on the BlackBerry Z10,before we can only play the game on the PlayBook, now finally we can also play on Z10 . Game should no longer introduced more, price is $1.99,it is definitely worth buying. But the game does not support Q10, reason is very simple, Q10 side screen is not for this game. Estimates that a lot of games on the Q10 also unable to play in.

Version: 1.4
File Size: 52 MB
Required Device Software Tablet: 1.0.0 or higher
BB10 Smartphone: 10.0.0 or higher
Model: Playbook, z10

Description:
Cut the Rope, catch a star, and feed Om Nom candy in this award-winning game!
The long-awaited hit game has finally arrived on BlackBerry® AppWorld™! Join MORE THAN 60 MILLION PEOPLE who have already played this game and gave it an average rating of 4.81 (out of 5)!
The little monster Om Nom is hungry and the only thing standing between him and a full belly is you – that is your help cutting the ropes that hold the candy he wants. Swipe your finger across the ropes to release the delicious bundles into his mouth. But don't forget to collect the stars and break the bubbles along the way – easier said than done when enemies and obstacles await!