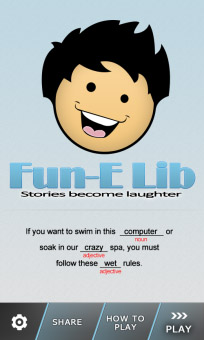 Tag:
Fun-E Lib
Overview :
Fun-E Lib - A MadLib Experience 1.990 for blackberry 10
File Size: 2 MB
Required Device Software BB10 Smartphone: 10.0.0 or higher

Description:
Fun-E Lib will bring standard stories and turn them into a room full of laughter. This game was made with MadLib in mind. Ever sit down with a group of people, pick up the book, and ask for nouns, verbs, adjectives (and others), then finally tell a story based on what words you were given?

This game is just like that! All you do is pick a story by it's title, fill in the blanks based off the words your friends/family members/co-workers give you and then turn that story into laughter!

You are always welcome to redo the same story with other people picking the words just to get an another burst of laughs!!
Last but not least, and the most important rule about Fun-E Lib... HAVE FUN!

***** FEATURES *****
-- 23 Amazing Funny Stories
-- Upcoming Category Listing
Categories like Christmas, Halloween, Sports, ETC.
-- A way to share with your friends on BBM, Twitter, and Facebook
-- Unlimited free future updates
-- Endless laughs with your friends, family, or co-workers
-- Learn about the game from inside the game
-- Easy to navigate

... and so much more!