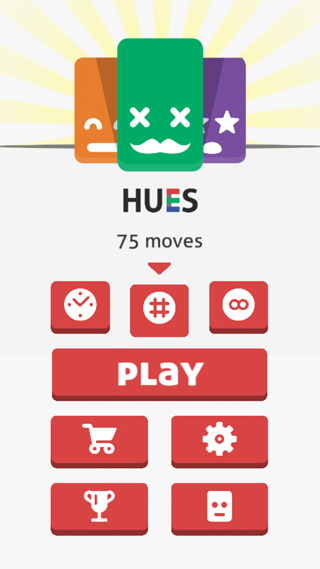 Tag:
Hues
Threes
Overview :
Hues is puzzle/card game inspired by Threes / 2048. By joining cards of the same color, you earn points and unlock more hues!
Hues is our take on this new age of puzzle games, enhanced with power ups and different gameplay modes. Each mode offers a unique style of play. Using colors we were enable to bring out a more intuitive gameplay.
Features-
-
Intuitive swipe to slide input (Also QWERTY input for the BlackBerry Q devices)
-
3 game modes: Timed Mode, Moves Mode, and Endless mode.
-
Power-ups - Increase time, increase moves, level up your Hues!
- Adaptive GUI! Watch the GUI change as you unlock more Hues!
- View hilarious character descriptions and details in 'The Clan'
- Leaderboards System
- Global Leaderboards! Compete with players from all over the world and try to get the highest rank!
- Coin Shop
-
Optimized for the BlackBerry Z10, BlackBerry Z30, BlackBerry Z3, BlackBerry Q5, BlackBerry Q10 and BlackBerry P'9882
Hues is no way affiliated with Threes or 2048, or any of its respective teams or franchises.
Supported Devices:
BlackBerry Classic
BlackBerry Leap
BlackBerry Passport
BlackBerry Passport Silver Edition
BlackBerry Q10
BlackBerry Q5
BlackBerry Z10
BlackBerry Z3
BlackBerry Z30
PlayBook
Porsche Design P9982
Porsche Design P9983