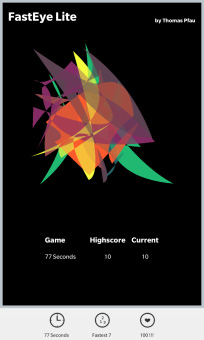 Tag:
FastEye
Overview :
FastEye Lite 1.1.1.1 for classic, passport games
The concept is very easy: Find the different shape and touch it. But it's not as easy as it seems. Sometimes it's enough to drive you up the wall. You can't find the obviouse difference.
This version contains only one short game variation that can't be configured. But it's good to start from.
Advanced player should buy the full version. It provides you with two short game variations and one longer to test and improve your skills. Play it in a short break or for a longer time.
If you have any questions, suggestions or bug reports do not hesitate to contact me by email or Google+. I would be glad to get screenshots with your highscores.
Supported Devices:
BlackBerry Classic
BlackBerry Passport
BlackBerry Q10
BlackBerry Q5
BlackBerry Z10
BlackBerry Z3
BlackBerry Z30
Porsche Design P9982
Porsche Design P9983