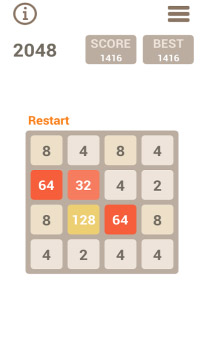 Tag:
classic game
Puzzle
2048
Overview :
2048 Puzzle 1.0.2 Free download
The 2048 app is a fun, addictive and a very simple puzzle game. Join the numbers and get to the 2048 tile!
The rules of this puzzle game are simple: just swipe cells to match them together. Sum the same numbers and your score will increase as fast as more you will merge. Can you reach the 2048th cell? It's not an easy task! Enjoy and win!
Smallest size app for 2048!
HOW TO PLAY:
Swipe (Up, Down, Left, Right) to move the tiles. When two tiles with the same number touch, they merge into one. When 2048 tile is created, the player wins!
Supported Devices:
BlackBerry Classic
BlackBerry Passport
BlackBerry Q10
BlackBerry Q5
BlackBerry Z10
BlackBerry Z3
BlackBerry Z30
PlayBook
Porsche Design P9982
Porsche Design P9983