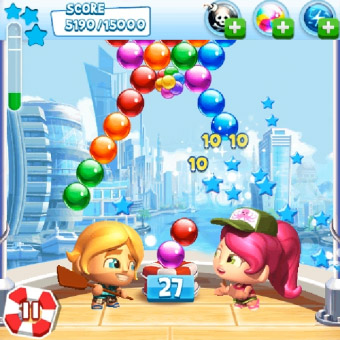 Tag:
Bubble
Mania
Bash
Overview :
Bubble Bash Mania v1.0 – Travel from the hot islands of Saint-Tropez to the icy breezes of Ice Station and solve bubble puzzles along the way! Match bubbles of the same color and shoot them down! Set sail and become a bubble-bashing master in this new free and fun bubble-shooter puzzle adventure game!
Game Features:
o Discover 200 free bubble-bashing puzzle levels in 10 fun, adventure-packed locations!
o Shoot the bubbles, reach the target score and free the goldfish to win!
o Connect to Facebook for social fun and compete against friends and help them out!
o Experiment with special bubble boosts to help you beat those challenging puzzles!
o Play with easy-to-use controls: Just touch to aim and release to shoot!
If you like free, fast action puzzle games, bubble-shooter games, match-three puzzle games and casual, social and fun adventures, then you'll love Bubble Bash Mania!
Version: 1.0
File Size: 2 MB
Required: BlackBerry Device with Screen Resolution 640 x 480 (9900, 9930, 9981)