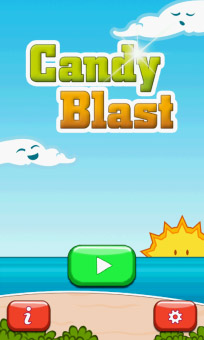 Tag:
Candy Blast
Overview :
Candy Blast Free for BlackBerry 10 games
Version: 1.0.3
File Size: 6 MB
Model: Blackberry Dev Alpha, Blackberry Z10, Blackberry Z15, Blackberry Z30, Blackberry A10, Blackberry Q30, Blackberry Q10, Blackberry Q5, Blackberry P'9982
Description:
It's simple, attractive and interesting. Find groups of same candies and blast them with a simple tap. The bigger the group the bigger the reward. Sometimes just blasting a group is not enough, getting a bonus or freeing up your way will worth better. Just play to find out which exciting strategies win the game for you.
Enjoy this fun game and create huge scores. Features are -
* Unlimited Levels
* Exciting graphics & animations with cool sound effects.
* Lots of bonuses and exciting puzzles
* 3 Lifelines.
* Bonuses gives points and lead you to next level, even in case the time is up.
* Tap groups of three or more same candies to blast them off the board.
* The bigger the group you blast the bigger the reward.
* For groups of four and five blocks - 3 blocks are removed off the board and the fourth block is powered up & remains on board to add bonus points.
* These powered blocks when blast they cause chain reactions and result in larger blasts and bonus points.
* The timer decreases after every 4 levels to make it challenging.
* The speed increases after every 4 levels.