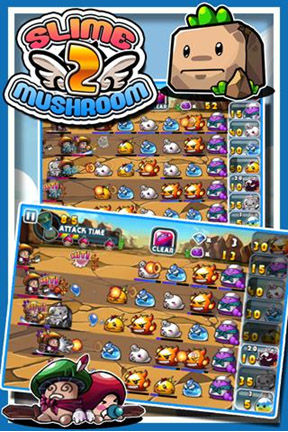 Tag: BB10 Slime Mushroom2
Overview :

" Slime vs. Mushroom2 " is a defense game with cute style , the playing method is same as the classic style " plants vs zombies ", peopl who like " plants vs zombies " would like " Slime vs. Mushroom2 ", hurry to download and install.



Version:

1.9


Model:

Blackberry 10 Devices: Blackberry Dev Alpha, Blackberry Z10, Blackberry Z15, Blackberry Z30, Blackberry A10, Blackberry Q30, Blackberry Q10, Blackberry Q5

Description:

As the war of mushrooms and slimes lasted for a long time, they developed their skills to cope with.

Someday there was a big conflict between them, as a result the leader of slime village was killed in the battle.

Without the leader, they were defeated terribly in many battles and faced the hard situation.

Slime vs. Mushroom2 for BlackBerry 10

Please be a wise leader of slime tribe and save your slime friends. Your mission is to defend slime village from evil mushrooms by placing various slimes with their capabilities in best strategic positions.

[How to play]

Gather slime points by touching or dragging baby slimes from productive slimes(Mom slime/Twin mom slime) before mushroom corps attack.

Build up impregnable defenses with various slimes by placing them in best strategic positions.

The longer time passes, the stronger attack you will be face with.

Productive slimes sometimes produce diamonds instead of baby slimes, you can scout new talent slimes or upgrade them with diamonds.

[Features]

Absorbing 140 stages.

Simple and easy operations.

Cute characters in the game.