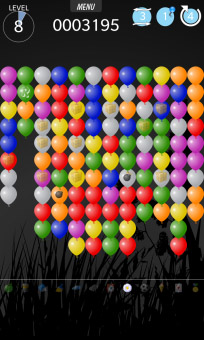 Tag:
BB10
Overview :
The Blackberry 10 version of the
Tap 'n' Pop
released. The iPhone version of the game once been the first on Canada iTunes free game list . Game Lite version is free and paid version will support more levels. The Interested friends can go to the BlackBerry World download and have an experience.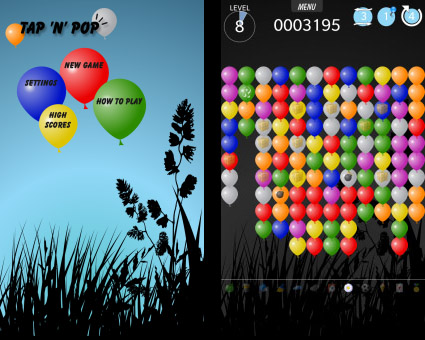 File Size: 9 MB
Required Device Software BB10 Smartphone: 10.0.0 or higher
Model: Z10, Q10

Description:
TAP BALLOONS TO POP THEM, ROTATE YOUR DEVICE TO REARRANGE THEM, USE THE PIN TO GET YOURSELF OUT OF A JAM
Shake your device to reset colours. Very useful when you are running out of moves!
Some user comments
-----------------------------------------------------
"Poppit with a twist! ... well worth the price!"
"Fun game played just like pop it on pogo ... a must have game"
"Brilliant game!
----------------------------------------------------
Tap 'n' Pop is a fun balloon popping puzzle game for the BlackBerry Z10.
REVEAL PACKAGES
Pop groups of colored balloons to clear and reveal packages containing various items. Reveal all items to reach the next level.
HOW TO PLAY
Tap once to select the group of same colored balloons you want to pop (balloons will start pulsating) – tap again to pop the balloons. Balloons below the removed ones will move up to fill the empty space. Package will be revealed if no balloons are covering it.
ROTATE YOUR DEVICE
Rotate your Z10 and balloons will move up – re-arranging positions and helping you out when you think you are getting close to not having any moves left.
You have limited number of "rotations", but you earn new one each time you complete a level. If you run out of rotations, but rotate your device anyway – balloons will simply be rotated along giving you the same layout as before rotation.
USE THE PIN
When you find yourself in a "tight spot" - use one of your pins to pierce any balloon that's in your way. Pins are hard to come by so use them wisely.
INNOVATIVE, ADDICTIVE and LOTS OF FUN
If you like games like Bejeweled, Tetris, Trism, Removem and other puzzle games you will absolutely LOVE Tap 'n' Pop. If you just think popping balloons is fun and relaxing – this is the game for you.
Keywords: Balloon, Pop, Poppit, Tap, Puzzle, Games, Brain, teaser, IQ, Smart, Brainteaser, Challenge, Lines, Colors, Test, Mind, Bloon, Bloons, Removem, Chain, Bubble, Bubblet, Breaker, Ball, Balls, Blocks
STIMULATE YOUR BRAIN WHILE HAVING FUN
By thinking ahead you are making your brain work harder. Having to think about what will happen after you rotate your device – even harder.
A lot of fun and very rewarding at the same time.