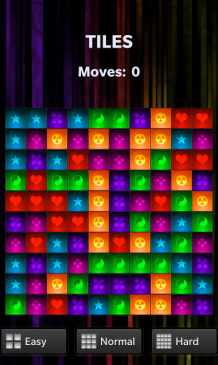 Tag:
Tiles
blackberry 1
Overview :
Tiles v1.0.1.1 for blackberry 10 games
Required Device Software:
Tablet: 10.0.0 or higher

Description:
Get the fun Tiles puzzle game for your BB10 Alpha device! Challenge yourself with three difficulty levels and see how quick you can solve the puzzle. The goal is the complete the puzzle in the least amount of moves, so take a try today!
If you like Tiles please write a review. Thanks.
This product comes with a 30 day value back guarantee. More info: http://s4bb.com/returnpolicy.