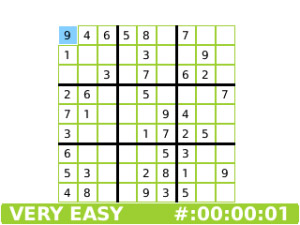 Tag:
Sudoku
Supreme
Overview :
Sudoku Supreme 1.900.0 for blackberry free games
Model:
Blackberry 81XX Series (240*260) Pearl Devices Models: 8100, 8110, 8120, 8130/Blackberry 82XX Series (240*320) Pearl Flip Devices Models: 8200, 8220, 8230/Blackberry 8350i (320*240) Related Devices Model: 8500, 8520, 8530, 9300(Kepler), 9320, 9330, 9350, 9360, 9370/Blackberry 83XX Series (320*240) Curve Devices Models: 8300, 8310, 8320, 8330 / Blackberry 87XX Series (320*240) Devices Models: 8700c, 8700r, 8700f, 8700g, 8703e, 8707, 8707g, 8707v .etc /Blackberry 88XX Series (320*240) Devices Models: 8800, 8820, 8830 .etc /Blackberry 89XX Curve Series (480*360): 8900(Javelin), 8910(Atlas), 8930, 8950, 8980/Blackberry 90XX Bold (Onyx) Series (480*320) Devices Models: 9000, 9020(Onyx)/Blackberry 96XX Tour (Niagara) Series (480*360):9600, 9630, 9650(Tour2), 9700(Bold2), 9780, Dakota, Apollo /Blackberry 95XX Storm Series (360*480):9500, 9510, 9520, 9530, 9550(Storm2), 9570(Storm3), 9800(Torch), Torch2/Blackberry Pearl 3G Series (360*400) Devices Models: 9100, 9105, 9670(Style)/Blackberry 99XX (OS 7.0) Series (640*480) Devices Models: 9900, 9930, 9981
Description:
Sudoku, the puzzle sensation that's swept the gaming world, keeps your brain active even when you aren't. A couple of these mind benders before that big presentation ensures you're sharp and your thinking is clear.
All thanks to Sudoku Supreme – the ultimate Sudoku puzzle app for those on the road or those at home who want to give those synapses a workout. And unlike other Sudoku apps for BlackBerry®, JaredCo's Sudoku Supreme, delivers more features, more fun, more deductive logic and, get this, it's FREE. Yep, totally, 100% free.
So what makes Sudoku Supreme so super. Features, and lots of them.
• Unlike other Sudoku apps that only offer one level of play, Sudoku Supreme let's you pick the degree of difficulty – easy, medium, hard or mind blower.
• Don't have time to finish that Sudoku you've been working on? Save it with Sudoku Supreme and pick up where you left off when you have the time.
• Enter numbers in the Sudoku boxes using your BlackBerry® keyboard or use the on-screen number selection option. Tap the number, tap the square and you're in play all the way.
• Make changes to your puzzling easily and quickly. Simply delete a number or change a number with a tap.
• Stuck? Tap Hint for a clue so you keep working your current puzzle. Or, tap Solve and start over. Like all JaredCo apps, we keep things simple. Always.
• New puzzles are served up with a click of the Sudoku Supreme icon so you're puzzling ASAP. Shut down is also just a click away.
• Want an ever greater challenge? Okay, NP. Time your Sudoku Supreme puzzling with JaredCo's game timer to track your progress as you become sharper, one puzzle at a time.
• Sudoku Supreme serves up an unlimited number of puzzles for gamers who never quit. You'll never run out of brain food with Sudoku Supreme.
• The Sudoku Supreme interface makes game play fun. No squinting as you catch the four-hour red-eye to your next destination.
• Sudoku Supreme syncs up seamlessly with any BlackBerry® and it doesn't suck the juice from your BlackBerry smart phone even after hours of puzzling and head scratching.
Sudoku Supreme takes five minutes to learn and a lifetime to master. That's why it's swept the world of puzzles – that, and it's fun on your BlackBerry® screen any time, any where.
Oh, and did we mention that JaredCo's Sudoku Supreme is super FREE. Yep, it's our gift to you because we want to spread the fun and enhance your BlackBerry® experience from business apps to utilities to smart game play.
So, pump up your senses. Stay sharp as a tack, even when you're feeling a little flat. Sudoku Supreme gets those brain juices flowing, keeps you entertained, fits onto any smart phone and, oh yeah, it's FREE. (Sorry, we just can't say that enough.)
JaredCo is known industry-wide as the maker of apps with purpose. Well, the purpose of Sudoku Supreme is to keep you sharp, alert, engaged and focused while exercising your brain no matter where you are.