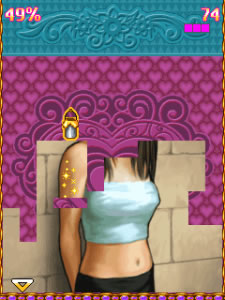 Tag:
Lovetris
Overview :
Lovetris games (os 4.5, 4.6, 5.0)
size: 462kb
Model:
Blackberry 8350i (320*240) Related Devices Model: 8500, 8520, 8530, 9300(Kepler), 9330/Blackberry 83XX Series (320*240) Curve Devices Models: 8300, 8310, 8320, 8330 / Blackberry 87XX Series (320*240) Devices Models: 8700c, 8700r, 8700f, 8700g, 8703e, 8707, 8707g, 8707v .etc /Blackberry 88XX Series (320*240) Devices Models: 8800, 8820, 8830 .etc
Description:
Romeo and Juliet: medieval Italy, swords… But in reality everything was different. The true story of two teenagers in love is much more fascinating and interesting. We present a fresh and original view of the immortal love drama. The most bright and frank interrelation moments of the offspring of warring families – this is Lovetris. What else? Oh yes, irreproachable gameplay, surprise bonuses and did we mention an unlimited number of levels?! Lovetris, just like true love, never ends.
Game features:
Tragic story of two young lovers
Three levels of difficulty
Unusual bonus system
Unlimited number of levels
High-quality graphics
If you like the game, Please share to your friends!