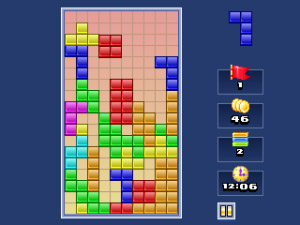 Tag:
Absolute
9330 games
her​ocra​ft
Overview :
free Absolute Tris v1.3.8 for blackberry os5.0 - 6.0 games(320x240)
OS 5.0, 6.0
Model: Curve 8520, Curve 8530, Curve 9300 3G, Curve 9330 3G

Description:
The magic of falling pieces conquered the world a long time ago. "Absolute Tris" is the ideal way to spend every free moment in an interesting and exciting manner. This freeware game will please you with balanced classic "tris" gameplay, а variable difficulty level, pleasant graphics and comfortable controls. Its on-line high-scores table is a chance to compete with the world's best players.
Share the game with friends via bluetooth or sms and have fun together!
* the game is totally free
* share the game with friends via bluetooth or sms
* increasing difficulty
* classic gameplay
* expanded worldwide high-scores