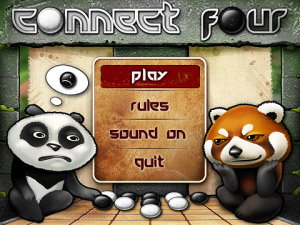 Tag:
97xx
96xx
89xx
Connect Four
Overview :
FREE Connect Four v1.0.1 for 89xx,96xx,97xx games
OS 4.6, 4.7, 5.0, 6.0, 7.0
Model : Curve 8900, Curve 8910, Curve 8980, Tour 9630, Bold 9650, Bold 9700, Bold 9780, Bold 9788, Curve 9350, Curve 9360, Curve 9370

Description:
Best Connect Four is not just a good game – it is fantastic game. Best Connect Four is not simply interesting – it is super interesting, Best Connect Four is not only worth downloading – it is a must have on your mobile.
The game is familiar, near and dear to everybody. Do you remember this entertaining board game, where you had to connect Four chips in a row, and tried to do it faster than your partner?
So now you can enjoy this game on your phone!
First, you have to select the level of difficulty, then choose your partner, and start playing!
All you have to do is to be smarter than your opponent and connect Four chips in a row first. Remember that a row can be vertical, horizontal or diagonal. And no more rules just start playing!
Characteristics:
* good old game;
** new creative design;
*** 3 levels of difficulty.
Feel free to win!!!
P. S. Don't be shy and let us know whether you like the application or not.
Feel free to contact Contlex Ventures team if you have some problems with the application and we will do our best to solve it. Thank you.
Enjoy your time with Contlex Ventures!