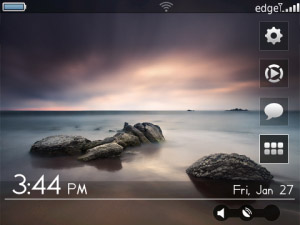 Tag:
Lucid
Overview :
( US$3.99 ) Lucid os7.0 themes by Mobster Mobile Design
Required Device Software:
Smartphone: 5.0.0 or higher
Description:
NOW SUPPORTS OS7.0/7.1 - 9900, 9930, 9981 - Tired of those default trays and 7.0 icons on most os7 themes? Lucid has a fully customized home screen. Please view screen images for your device.
2012 brings Mobster's first theme of the year; Lucid. An elegant and simple design theme that has a user-friendly interface. It supports all devices running on 5.0/6.0 software. This theme will soon be available for all os7 devices.
Features:
* Wallpaper friendly design. This theme looks great with any of your favorite wallpapers/image
* 4 fixed icon categories (settings, media, social and custom) that displays three fixed selections (view images)
* 8-10 custom icons that can be chosen by the user to display favorite or most used apps on the home screen
* Large clock and date visible on the home screen
* Two fixed icons: profiles and manage connections for easy accessibility
* FREE UPDATES
Be sure to follow us on twitter @mobstermdesign for free themes, offers and promos. Also visit our website http://mobstermobiledesign.com