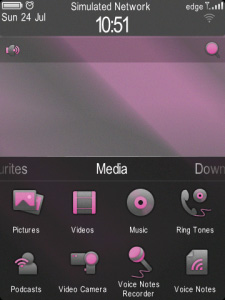 Tag:
pink
Rosa Seis
Overview :
File Size: 662 KB
Required Device Software:
Smartphone: 6.0.0 or higher

Description:
'Rosa Seis' is for those of us who love the default theme from BlackBerry® 6 devices. I absolutely love my 'Azul Cinza' icons (those used on 'Beaute Bleu') so i was dying to use them again & here i got the chance. The theme has a color of Pink & Grey to match those of the icons throughout, along with a simple font change & a new banner. It still amazes me how some simple changes can give something a completely new feeling. Its just like my slogon 'The simplest of things can be the most beautiful'...
ONLY FOR BLACKBERRY 6 DEVICES!
do not download if you are running an OS that is anything lower it will not work!