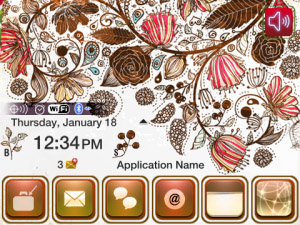 Tag:
Floral
Overview :
Floral Design v1.1.0 Theme ( US$1.99 )
Required Device Software:
Smartphone: 4.6.1 or higher
Description:
Design is intelligence made visible – Alina Wheeler
* The intelligence in design is transparent in this theme.
* Here comes a theme which is one of the best designs.
* This theme is very colorful & lively.
* Customized icon set.
* Customized battery & signal meters.
Note: The calling screens are not customized in OS 7 devices. The home screen may look a little different based on the device.
Follow us on Twitter: http://twitter.com/IntellectD
Please let us know in twitter or send us a mail if you are facing any issues with our products. We would love to help you out.
If you like our theme, please post a review in BlackBerry® App World™.