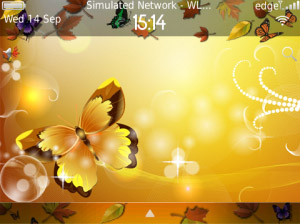 Tag:
love
97xx
9800 themes
Autumn WARM
Overview :
Autumn WARM and LOVE for blackberry os5.os6 themes
Required Device Software:
Smartphone: 5.0.0 or higher

Description:
Autumn is one of the four temperate seasons. Autumn marks the transition from summer into winter and Association with the transition from warm to cold weather, and its related status as the season of the primary harvest, has dominated its themes and popular images. Feel the Warm and Love on Autumn Warm&Love BlackBerry® Themes now
Compatible for OS 5 and OS 6 devices only.
OS5 : 8500, 9300, 9100, 8900, 9500, 9700
OS6 : 9300, 9100, 9670, 9780, 9800
Would love to know how do you feel of the Autumn Warm&Love Themes as a review.
===================================
Features:
-----------
♦ Customize Autumn Icon set
♦ Wallpaper friendly
♦ Clean, simple & professional
♦ Fast and snappy
♦ Small file size
===================================
For Touch devices (9800,9500)
Support landscape mode.
All features on potrait mode work perfectly on landscape mode.
100 % trackpad supports ( 9800 )
===================================
Check out other Walker Themes at :
http://appworld.blackberry.com/webstore/vendor/10710
Our Bestselling & Recommended Themes :
HeartBeat PINK SEVEN Themes - Unique Clock (OS 7 icons)
http://appworld.blackberry.com/webstore/content/49332
HeartBeat SEVEN Themes - Unique Clock (OS 7 icons)
http://appworld.blackberry.com/webstore/content/49331
Follow us :
http://twitter.com/ring_walker
===================================
NB:
-Please make sure that you select the right device and OS version (to check your OS go to Options- About).
-Please see the screenshot and check the features info 1st before purchasing because we don't accept any personal modification or request.
-Subsequent claims can not be taken into account! Also check screenshots first and then select the theme you want! Screenshots can be found in BlackBerry® App World™.
-Remember to perform a battery pull after installing a new theme.
-You MUST have a data plan/internet access on your BlackBerry in order to install themes.