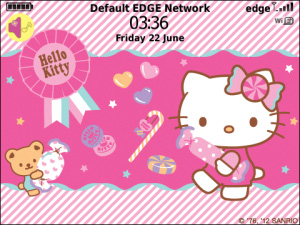 Tag:
pink
Hello Kitty
Sweet
Overview :
Very love it works great on my torch.........



Version: 2555.7.4.1425
File Size: 1296 KB
Required Device Software:
Smartphone: 4.6.1 or higher

Item Description:
New arrival!!! A must have theme for all "Hello Kitty" fans!! Only2.99USD
Hello Kitty, an adorable white cat from Sanrio, brings you a cute theme as always. She comes with her little friend to give you all sweet candies. Let's try a new "Hello Kitty" theme for your sweet day and you're gonna fall in love with her.
***IMPORTANT***
This theme supports BlackBerry OS Version above 4.6, 5.0, 6.0 and OS 7 ; BlackBerry 9900, 9360, 9380, 9850, 9860, 9810, 9220, 9800, 9780, 9700, 9650, 9330 and more.
Please note that for OS7, users can't change background photo apart from the default theme and the background theme will not show in the incoming call page.
** Sample of screenshots may different from the version you download, as we don't provide screenshots of every BlackBerry models!!
-----------------------------------------
Features:
1. Background on all screens.
2. All system icons including messages, browser, contacts, calendar, profile, alert icons set and more.
3. Menu colors, highlights, profile popup Fonts.
4. Quick link to support site and more!
To activate the theme after successfully downloading:
Navigate to Options - Theme - Select the desired Theme and activate.
To uninstall a theme please delete it in the application list.
If you have questions or need tech support please contact us before posting a review .
Don't hesitate to ask if you want anything.
Contact: bb@n-content.com
We hope you like the Theme. ENJOY!!