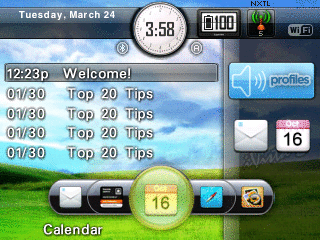 Tag:
curve
85xx
83xx
iVista 2
Overview :
iVista 2 themes for blackberry 83xx,85xx Devices
Description
********* IVISTA 2 FOR THE STORM ONLY HAS BEEN UPDATED TO VERSION 2.5 !!! PLEASE REVIEW THE IMAGES FOR MORE INFO *********
iVista 2 is the next version in BlackBerry theme sophistication. iVista 2 combines the best of the iPhone icons and the clean, professional build of Windows Vista. It's a fast, clean theme that works best for the corporate user on the go, but still has an extremely creative approach for the everyday user.
********* REVIEW ALL PHOTOS BECAUSE IVISTA 2 DIFFERS DEPENDING ON THE PHONE MODEL *********
ALL -- Easy to read fonts!
Compatible Devices
BlackBerry: Curve 8300, Curve 8310, Curve 8320, Curve 8330, Curve 8350i, Curve 8520, Curve 8530