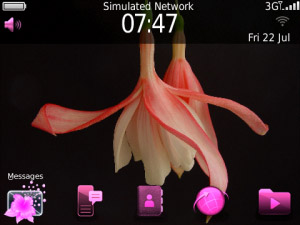 Tag:
9900 themes
pink
Fuchsia
Overview :
Fuchsia Pink OS7 Icons Theme for blackberry os5.0+
Required Device Software
5.0.0 or higher
Supported devices:
Blackberry 85xx, 89xx, 90xx, 91xx, 93xx, 95xx, 96xx, 97xx, 98xx, 99xx

Description
A beautiful close-up of a pink fuchsia flower adorns the homescreen while bespoke menu highlights and icons take care of the rest.
This theme also features the latest OS7 icons in pink!
The theme is laid out in a Zen format to keep the main homescreen operation nice and fluid. (This means you DO NOT have "Open Tray" and the Favourites, Media options when you go left and right.) You can change the icons on the homescreen by moving your icons.

If you like the theme (and we hope you will) please leave a review to tell others. If we can improve it, please contact support so we can make it better
IMPORTANT: You can select the theme from Options, Themes on OS5 and Options, Display, Screen Display on OS6. It is recommended that you reset the device by removing/reinserting the battery after installing and selecting this theme.
IF YOU DOWNLOAD THE THEME ON A FREE TRIAL YOU MAY NOT RECEIVE UPDATES.
In some cases you may experience repositioning of icons after selecting this theme. To move them - highlight chosen icon, select menu key, click move (or move to folder) We want our users to be happy! If you are having a problem, please contact support at the bottom of this page.
Theme will vary on different devices from screenshots.
We are unable to respond to reviews left as we do not see your email address.
If you are happy, use Review to tell others. If you are not, use Support to tell us :-)
meta: fushcia, fusha