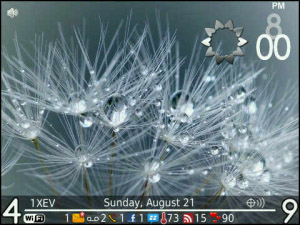 Tag:
ENTWINED
Overview :
ENTWINED v1.0.0 for blackberry theme(os5.0+)
Required Device Software
5.0.0 or higher

Description:
Wallpaper friendly ENTWINED with tons of icons.
Simple ENTWINED with Elegant.
Form ENTWINED with Function.
Entwined offers exactly what you are looking for. Large OCD icon with pulsating focus, perfect for your favorite weather app. (SLOT1)
6 icon orbital dock (SLOT2-SLOT7) 6 icon bottom dock (BlackBerry® Bold™) 4 on BlackBerry® Storm™/BlackBerry® Torch™
Love Wallpaper?
HIDE all docks independantly!
Touch HOURS portion of clock to hide/show the OCD (alt+t and alt+y - non-touch)
Touch DATE in bottom banner to hide/show the bottom dock (alt+q and alt+a - non-touch)
Touch ABOVE the bottom dock to hide/shoe the orbital dock (alt+o and alt+i - non-touch)
**HOTKEYS**
MUST HAVE DIAL FROM HOMESCREEN TURNED OFF
Media - e
Clock - r
BatteryEx (not included) SHIFT+x
Universal Search - s (OS6 ONLY)
SMS/MMS - $ (MUST have currency key set to $)
Manage Connections -j
Clock - r
Profiles -f
Custom Battery and Signal meters with matching ENTWINED clock offer the user everything you need at a glance.
Hand Coded to ensure optimum performance and smooth operation.