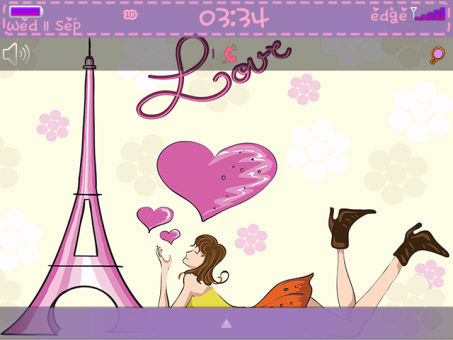 Tag: love Paris
Overview :

Love in Paris Theme with Purple color ($0.99)



PRICE DOWN FOR A LIMITED TIME, AND BACK TO NORMAL AT ANY TIME SO GRAB IT FAST!!!!!!!!!!!!!!!

https://www.facebook.com/pages/Blackberry-Themes-by-Themerzz/194812003999659

Simple, soft colour and girly theme with Purple colours

try it n hope you like it :)

Newest cute girly purple icon set.

Lovely fonts for theme.

Eye pleasing purple color scheme used in theme.

Custom Indicators for BBM and Email etc.

Custom Message and Messenger notification and indicators.

very wallpaper friendly

Semi-transparent menus and dialogues.

Very clean and responsive.

Very eye pleasing color scheme for menu and dialogues.

No more complain for hidden folders with this version.

Both screen mode supported on 9850/60, 9810, 9800 and 9380.

===================================

Device Support

OS7/7.1 9981,9900, 9930, 9810, 9790, 9350/60/70/80, 9310/9315/9220.

------------------

OS6 9800,9300, 9330, 9788, 9780, 9700 and 9650(With OS6 installed).

------------------

OS5 8350, 8520, 8530, 9300, 8900, 9630, 9650, 9700.