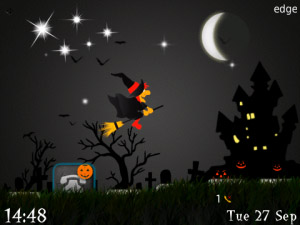 Tag:
Black
Flying Witch
Overview :
Flying Witch v1.0 - Halloween ( Animated Themes )
Required Device Software
5.0.0 or higher

Description
Get an adorable Halloween with this Flying Witch Halloween BlackBerry® Themes.
A witch will fly over your BlackBerry® Homescreen everytime you scroll over the icons, You will love your Halloween night with This Flying Witch Halloween BlackBerryThemes. BOoo
Custom Battery ( Moon )
Custom signal ( stars )
Custom notification ( pumpkin )
Custom Tombstone icon set
this animated Halloween Themes won't drain your BlackBerry battery because the animation will play only when you scroll the icons.
Having fun in this Halloween ;)
Features:
# animation of Flying WITCH (Focus in on Homescreen icons )
# custom tombstone icon set
# sneak and peak icon effect
# 5 or 6 user define icon on Homescreen
# customize Battery and Signal
# custom fonts to match the theme
# wallpaperfriendly ( you can change the wallpaper )

==================================
Check out other Walker Themes at :
http://appworld.blackberry.com/webstore/vendor/10710
Our Bestselling & Recommended Themes :
HeartBeat PINK SEVEN Themes
http://appworld.blackberry.com/webstore/content/49332
Follow us :
http://twitter.com/ring_walker
===================================
NB:
-Please make sure that you select the right device and OS version (to check your OS go to Options- About).
-Please see the screenshot and check the features info 1st before purchasing because we don't accept any personal modification or request.
-Subsequent claims can not be taken into account! Also check screenshots first and then select the theme you want! Screenshots can be found in BlackBerry® App World™.
-Remember to perform a battery pull after installing a new theme.
-You MUST have a data plan/internet access on your BlackBerry® in order to install themes.