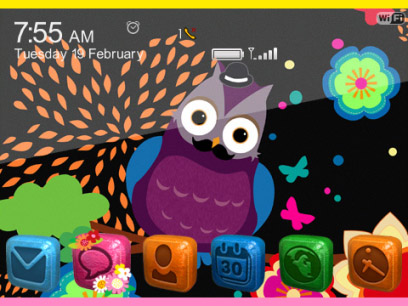 Tag:
Mustache
Owls
Overview :
Recommend a latest works from @ MMMOOO the "Mustache Owls" theme, very interesting owl, the 3D icon. This theme supports most of OS4.5-OS 7.1 devices Make sure the theme applies to your phone before downloading.

Size: 3 MB
Required Device Software Operating System: 4.5.0 or higher

Description:
Mustache Owls is a very funny & cute theme, and the 3D leather icons make it more premium! Perfect beyond your imagination and supports all OS7 devices~ :) You will find it worth each penny!
Features:
1. 3D Leather icons, really premium!
2. Fashion, the mustache is fashion now in popular photo editor apps.
3. Innovation wallpaper is the most cute and funny!
Guarantee satisfaction:
If you find a bug or have a feedback, kindly write email to us, we can assist you well or provide revision asap, because we could not reply App World Reviews. Let's make a great app together! :)