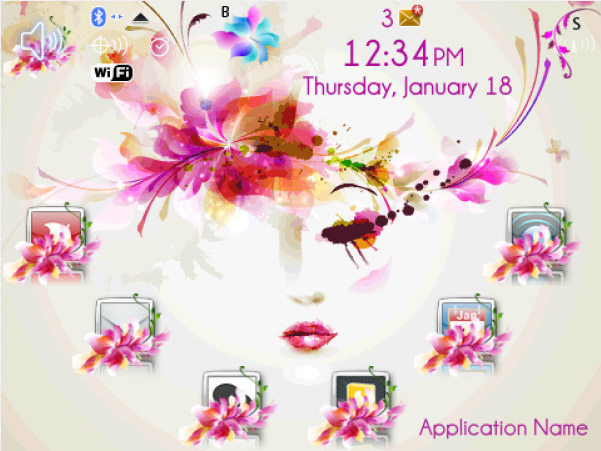 Tag:
Floral Fairy
blackberry themes
Overview :
Floral Fairy 1.0 for blackberry themes
PLEASE READ CAREFULLY BEFORE PURCHASE:
-If you have any questions please contact me before posting a review, i can't see who you are and therefore cannot respond in reviews.
-Everything works well on BlackBerry OS 5 & BlackBerry OS 6
-The Calling screens on BlackBerry OS7 themes are the default
-Don't forget to reboot your BlackBerry® after applying new themes
FEATURES:
* customized screens
* customized icons
* customized battery level and signal meter
* customized new items icon indicator
* customized focus icon * and many more...
NOTE: -Before download, check your device and OS version, -go to Option-Device-About device Version make sure that your device compatible with this theme :)
-If you get a problem to install the theme, please try to reset your BlackBerry World,
- first : -Go to BlackBerry World-Press and hold ALT + R S T. Then go back to BlackBerry World-my world-press menu-choose refresh -then check the uninstall list.
Should be the theme ready to re-install now -i'm so happy for the positive feedback you give on review..
and don't forget for 5 star rating, it's a support for me to give the best work for you.... - please check the screenshot before purchase.
- thank you ...
COMPATIBLE FOR:
- BlackBerry 8520,BlackBerry 9700 (OS 5)
- BlackBerry 9700,BlackBerry 9650, BlackBerry 9800, BlackBerry 9300 (OS 6)
- BlackBerry 9790, BlackBerry 9360, BlackBerry 9350 (OS 7.0 & 7.1)
- BlackBerry 9860, BlackBerry 9850 (OS 7.0 & 7.1)
- BlackBerry 9900,( OS 7.0 & 7.1)
- BlackBerry 9380 (OS 7.0 & 7.1)
- BlackBerry 9810 (OS 7.0 & 7.1)
- BlackBerry 9320 (OS 7.1)
- BlackBerry 9220 (OS 7.1)
- BlackBerry 9310 (OS 7.1)