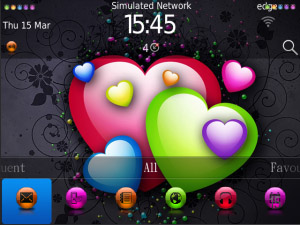 Tag:
love
colorful
Overview :
It is a 3d LOVE bb theme, i very like it, hope you like.




Required Device Software:
Smartphone: 4.6.0 or higher
Description:
Customize your BlackBerry® with the sleek look of COLORFUL LOVE THEME!
See screen shots for more details!
****Supported for OS 7 Devices****
* Background on main and lock screens
* High quality screen-wise backgrounds.
* New message icons
* All customized icons including messages, browser, contacts, calendar and more
* Lock screen and icon
* Menu colors, highlights, alert icons and popup buttons
* Alarm icon
* Fonts and colors
* Profile icons
* Wallpaper Friendly
* Customized battery & signal meters.
Note:- OS 7 Devices do not come with themed call screens!
Upgrade your phone with Colorful Love Theme from IOnestudios.