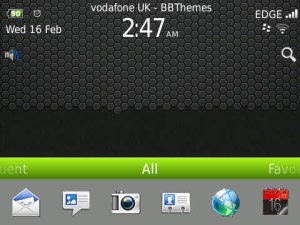 Tag:
Robotik
BBThemes
Overview :

Required Device Software:
Smartphone: 6.0.0 or higher
Description:
Robotik is a beautiful new theme for your BlackBerry®. While still holding true to the BlackBerry 6 UI with the sliding pages, this theme adds a gorgeous set of icons and vibrant green highlights to make your phone stand out from the crowd.
Theme is available for:
9300 BlackBerry® Curve™ 3G
9650 BlackBerry® Bold™
9700 BlackBerry® Bold™
9800 BlackBerry® Torch™
9900 BlackBerry Bold OS7
***Please note OS7 themes are currently in BETA so we do not have full ability to skin all of the theme. currently the focus icon cannot be skinned, nor the callscreens. everything else such as buttons, icons, wallpapers and banners are skinned***

To activate your theme: Options-Display-Screen Display
Please ensure once you have activated the theme that you restart your device by removing the battery.