How to get apps on blackberry ?
Your new BlackBerry Smartphone (maybe a Tour?!) is in your hand and you're ready to go. You want to check the weather, hop on Twitter, listen to streaming radio and play some games. Once you're initiated, getting apps onto your BlackBerry is an easy process, but if you're new to BlackBerry it's not quite as readily intuitive as it could be. Just how do you get all those apps installed and running? There are few good options out there for browsing, purchasing and installing applications. Two of our favorite one-stop browse/shop solutions are BlackBerry App World and the CrackBerry App Stores, and to stay on top of what's new and what's offered at the best price you'll want to have both installed on your device. Another option you'll often run into in the world of apps is downloading directly from independent developer sites. Below we'll take a quick run through these three options so you can start filing up your homescreen and folders with apps, apps, apps!

After Installing, Don't Forget The Final Step- Finding your App or Activating your Theme

Applications: In the case of an application or game, typically an icon will be installed onto your homescreen. On older devices the icon for the new application will appear on the main homescreen, or on newer devices the icon will appear in your downloads folder by default. You can also relocate the placement of this icon (see tutorial). Note that some applications may not install an icon anywhere, but rather will add more functionality to the device (a new option will appear on the main Options menu).
Themes:
Unlike an application, when you install a theme it does not install any sort of icon onto the homescreen. Rather, you need to enter the Themes menu, which can be found by going to Options > Themes. Here you can select your new theme and activate it. For more info, visit this Basics of BlackBerry themes tutorial.
BlackBerry App World
BlackBerry App World launched on April 1st of 2009, and is RIM's official official app store. It features a variety of free and paid apps and requires a paypal account to purchase. RIM chose to set a minimum app price of $2.99, which has turned out to be sort of strange -- you can actually find many of the same apps in App World tha sell for $2.99 for only $1.99 or even 99 cents in the CrackBerry App stores. App World launched in North America and the UK and is rolling out to more countries in the months ahead. Currently it is an on-device only store, which means there's no computer browse-able version. App World does not include themes in their catalogue. App World also has no means for which refunds can be provided and tech support is only provided by the developer.
If you haven't already installed BlackBerry App World, you can do so by visiting http://blackberry.com/appworld from your mobile browser. Click the Download button and the application will install on your device.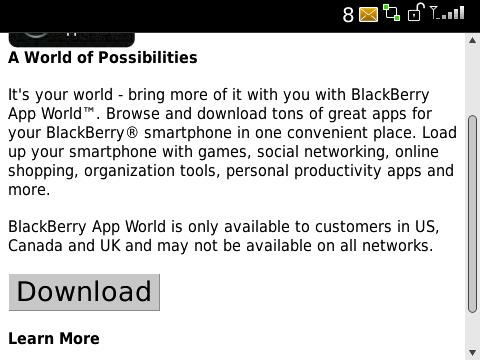 Click on the BlackBerry App World icon on your device to start the application. The first screen you will see is the list of featured items. You can scroll through these applications, or choose to view Categories, Top Downloads or Search for items.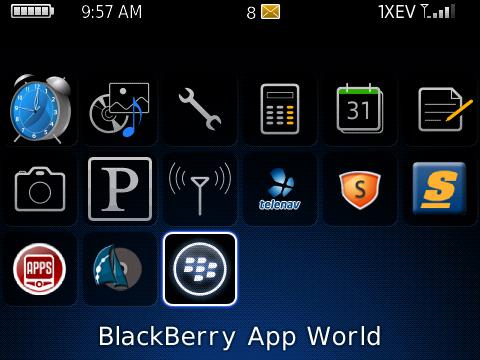 After locating the desired application, select download to install it on your device. The application will automatically install.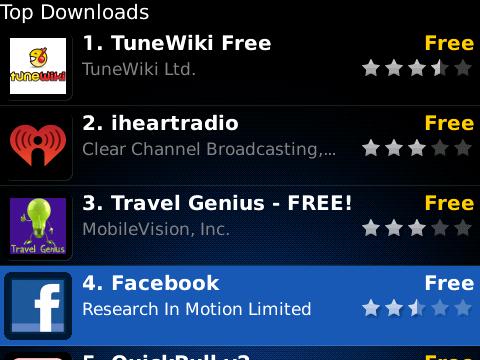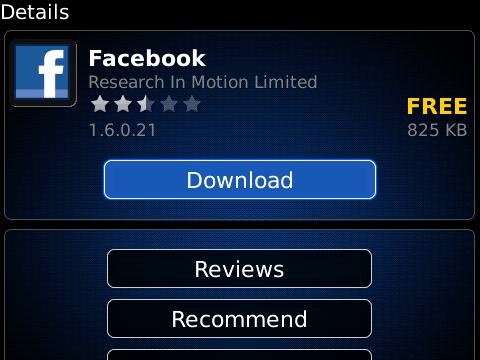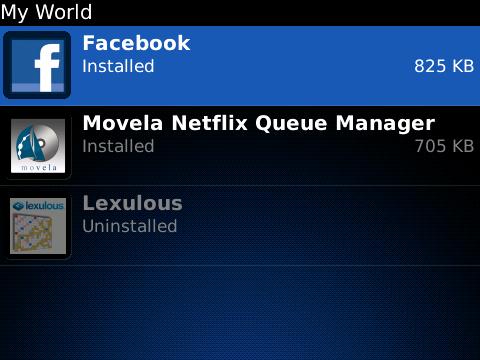 Find the icon on your device and start the application.