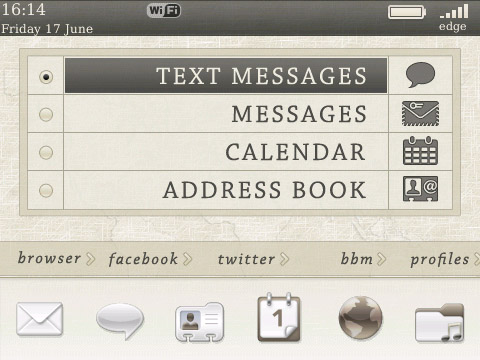 Tag:
Sepia
Overview :
Sepia v1.3 for bb os4.5+ themes ( US$3.99 )
File Size: 1473 KB
Required Device Software:
Smartphone: 4.5.0 or higher
Model: Pearl 8100, Pearl 8110, Pearl 8120, Pearl 8130, Pearl Flip 8220, Pearl Flip 8230, Curve 8300, Curve 8310, Curve 8320, Curve 8330, Curve 8350i, Curve 8520, Curve 8530, 8700, 8707, 8800, 8820, 8830, Curve 8900, Curve 8910, Curve 8980, Bold 9000, Pearl 9100 3G, Pearl 9105 3G, Curve 9300 3G, Curve 9330 3G, Tour 9630, Bold 9650, Style 9670, Bold 9700, Bold 9780, Bold 9788, Storm 9500/9530, Storm2 9550/9520, Torch 9800



Description:
Sepia is a clean, simple and antique style theme. Looking for a theme that can transform your device into a classic style without losing all the great features of your typical theme? Sepia is here to change your BlackBerry®! We've packed this simple theme with all the great apps that you use directly from your home screen. We have added a fixed icon dock that can be hidden from view, a scrolling icon panel, and an area where you can customize the apps to display your favorites.
PLEASE TAKE THE TIME TO READ THE INFO BELOW ON HOW TO USE THIS THEME FOR YOUR PARTICULAR DEVICE.
Features:
* Fixed icon dock that includes: Text Messages, Messages, Calendar and Address Book. (Read Below)
* Scrolling icon dock includes: browser, facebook, twitter, BlackBerry Messenger, profiles, pictures, music, options, and manage connections
* 4-6 user-defined icons on the home screen (depending on device)
* Wallpaper friendly
* Custom made graphics, icons and visuals
* Fonts are user defined in the messages and menu areas of this theme
* Full landscape mode for the BlackBerry® Torch™ Device (no landscape mode on the home screen included on BlackBerry Storm Devices)
* Curve 85xx & 9300 do not have the date displayed on the home screen due to the nature of the theme and limitations to screen size
* FREE UPDATES (paid versions only)