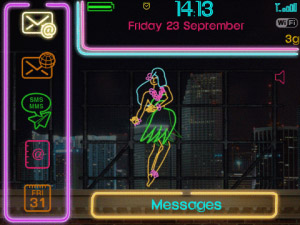 Tag:
Nightlife
Overview :
Free NightLife 1.0.0 for blackberry themes ( Trial )
Required Device Software
4.6.1 or higher

Description
Gussy up your BlackBerry® with the glitz and glam of a Vegas-inspired, after-dark lifestyle. This theme ignites your BlackBerry with animated neon signs and colorful customized icons. With full OS 6 support, the NightLife theme is where fun meets functional. Viva Las Vegas!