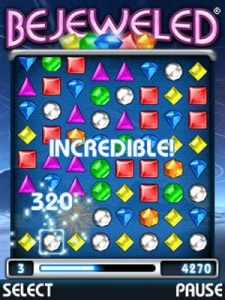 Tag:
Bejeweled
9700 games
8900 games
Overview :
Bejeweled v1.3.0 for blackberry 480x360 games
OS 4.6, 5.0, 6.0, 7.0
Model: Curve 8900, Curve 8910, Curve 8980, Tour 9630, Bold 9650, Bold 9700, Bold 9780, Bold 9788, Curve 9350, Curve 9360, Curve 9370

Description:
Thank you for choosing and supporting BlackBerry®. In appreciation, Bejeweled is free of charge for a limited time, compliments of BlackBerry.
The classic gem-swapping puzzle game Bejeweled® comes to mobile with enhanced graphics and more fun than ever. String together three or more gems to rack up points in a fast-paced treasure hunt. Advance through levels in normal single-player mode or race the clock in timed mode. It's a treasure trove of mobile fun!