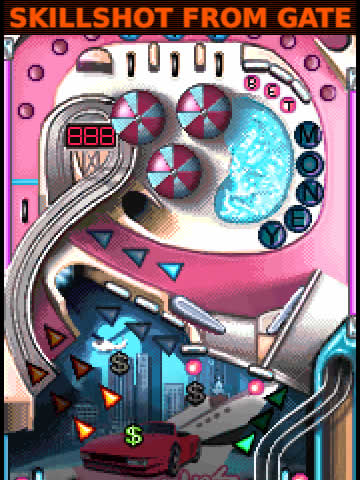 Tag:
Pinbal
Overview :
Model:
Blackberry 95XX Storm Series (360*480):9500, 9510, 9520, 9530, 9550(Storm2)
Description:
Revisit the 1980s, with 80s Pinball from Mr.Goodliving. Combining the glamour, glitz and good looks with gorgeous graphics, an excellent soundtrack and great gameplay, 80s Pinball takes mobile pinball games to another dimension!

Revisit the 1980s, the decade of vogue, vice and videogames with 80s Pinball from mobile pinball leader, Mr.Goodliving.
Collect classic cars, exploit the stock market, make big bucks and visit the coolest parties of the era where style was king and games were great. A pastel-colored, action-packed, retro attack, 80s Pinball combines glamour, glitz and good looks with gorgeous graphics and great gameplay, to create the ultimate mobile pinball game. Featuring a completely new table design, all-new gameplay, unique and challenging missions, big bonuses and a massive jackpot, this 'pick-up-and-play' pinball game has something for new players, die-hard gamers and pinball wizards alike.
80s Pinball offers four flippers and four-way nudge for total control, incredible ball dynamics, authentic 1980s graphics style, a truly massive soundtrack and excellent special effects. Of course there are also bumpers, ramps, switches, slingshots, spinners, secret passages and much, much more!