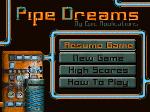 Tag:
9550 games
Pipe
Dreams
Overview :
Pipe Dreams for blackberry 9550 games
Model:
Blackberry 95XX Storm Series (360*480): 9500, 9510, 9520, 9530, 9550(Storm2)
Description:
Fast paced and challenging, Pipe Dreams is a race against the clock to create a pipe structure that controls and directs the flow of water. Points are earned for each square water flows through; however, the game is lost if the water leaks at any point.
Each level begins with a randomly located water main. A series of pipe pieces are given to you. Place them together as quickly as you can to form the longest chain possible. Once the timer runs out, water begins to flow and the pressure mounts!
If you get enough points for the round, you move on to the next round where the water comes quicker, flows faster, and more points are needed to move on. In between rounds, you can save your progress and return to it another time.
Pipe Dreams features 4 difficulty modes - Easy to Expert. As the difficulty increases, the water flows faster and starts sooner, flooding the screen and requiring quick reflexes. Graduate to Expert and you will face additional challenges - like the inability to swap-out existing pipe segments.