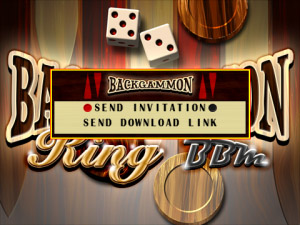 Tag:
Backgammon K
Overview :
Backgammon King v2.0.1 for 89xx,96xx,97xx blackberry games
Model:
Blackberry 89XX Curve Series (480*360): 8900(Javelin), 8910(Atlas), 8930, 8950, 8980/Blackberry 96XX Tour (Niagara) Series (480*360):9600, 9630, 9650(Tour2), 9700(Bold2), 9780, Dakota, Apollo
Description
***ON SALE*** For a limited time only!
Backgammon King has been integrated with BlackBerry® Messenger!
Played the world over, this game of position and strategy now pits two BBM friends against each other in a live action backgammon challenge complete with in-game chat. Even if you lose the game, with a little spirited trash talk you can come out on top.
Getting started is simple and you can do everything from the Backgammon King menu. Share a download link, sending an invitation to play and setting up games, it's all done in-game and it's as easy as clicking a button.
No BBM friends able to play? No problem, you can still play a single-player game or play against on-line Magmic gamezone opponents. It's still great fun and it's a great way to learn the finer points of the game and hone your skills.
IMPORTANT: This product requires BBM6. Please make sure you've updated BBM to the latest version prior to installing Backgammon King.