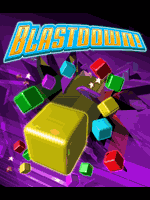 Tag:
Blastdown
Overview :
Model:
Blackberry 71XX Series (240*260) Devices Models: 7100, 7110t, 7105t, 7100r, 7100v, 7100g, 7100x, 7100i, 7130e, 7130c, 7130g, 7130v/Blackberry 81XX Series (240*260) Pearl Devices Models: 8100, 8110, 8120, 8130
Description:
Blastdown! takes block-clearing puzzle fun to new levels. The latest version of the popular Blue Blocks game is easy to pick-up-and-play but hard to put down!
Clear same-colored blocks to score points and win big. Wildcards, bombs, and lightning blocks keep the grid unpredictable and increase your chances to clear blocks quickly. Enjoy progressively challenging levels and two distinct play modes - clear the entire grid in Marathon, blasting blocks at your own pace or race the clock in Speed mode.