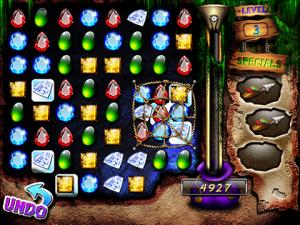 Tag:
Hunt
Aces
Jewel
Overview :
Aces Jewel Hunt v1.0.2 - blackberry games download
Description:
Capture jewels with this gem swapping game! Line up matching jewels to capture them, or if you're stuck use a special like the spear or vine. Aces Jewel Hunt includes three game types for tons of fun! Improve your speed with the Timed and Quick Challenge games or accumulate as many jewels as possible with the Classic game.
The statistics and online leaderboards make it fun and easy to track your wealth and compete against your friends. Enjoy fantastic graphics and entertaining sound effects while capturing heaps of jewels.
Game Features:
• Three different game types: Classic, Timed, and Quick Challenge!
• Easy, Medium, and Hard difficulties!
• Online Leaderboards for each game: daily, weekly and overall!
• Tracks tons of statistics!
• Tutorials available to get you started!
• Vibrant and attractive graphics!
• Specials include net, spear, vine, concrete block, and more!
• Tumbling gems create huge captures!
Model:
Blackberry 95XX Storm Series (360*480):9500, 9510, 9520, 9530, 9550(Storm2), 9570(Storm3), 9800(Torch), Torch2