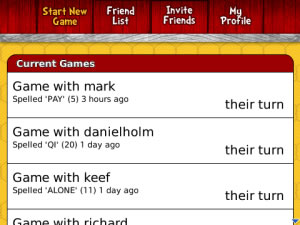 Tag:
bold
9900 apps
curve
Words
tour
Fightin
Overview :
Fightin' Words v1.15.0 for blackberry games download
Description
**** SPECIAL OFFER! FW IS DISCOUNTED FROM $2.99 to $0.99. LIMITED TIME ONLY ****
Fightin' Words is a killer multi-player word game allowing you to play head to head with other players.
The game is in the Scrabble genre and we love this genre of game. Unfortunately Words With Friends for BlackBerry® does not exist and we were unsatisfied with other alternatives. Being a development shop, we decided to fill the void and Fightin' Words was born.
Features
* Play words vertically or horizontally
* Play head to head against other human opponents
* POW tile can be used as any letter or replace another letter
* Play many games at once
* Choose between email or push notifications
LEGAL NOTICE: This game is different from Scrabble and Words With Friends.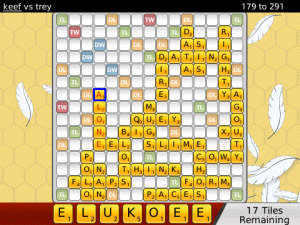 Model:
Blackberry 8350i (320*240) Related Devices Model: 8500, 8520, 8530, 9300(Kepler), 9330/Blackberry 89XX Curve Series (480*360): 8900(Javelin), 8910(Atlas), 8930, 8950, 8980/Blackberry 90XX Bold (Onyx) Series (480*320) Devices Models: 9000, 9020(Onyx)/Blackberry 96XX Tour (Niagara) Series (480*360):9600, 9630, 9650(Tour2), 9700(Bold2), 9780, Dakota, Apollo /Blackberry 95XX Storm Series (360*480):9500, 9510, 9520, 9530, 9550(Storm2), 9570(Storm3), 9800(Torch), 9810/9850/9860(Torch2)/Blackberry Pearl 3G Series (360*400) Devices Models: 9100, 9105, 9670(Style)/Blackberry 99XX (OS 7.0) Series (640*480) Devices Models: 9900, 9930