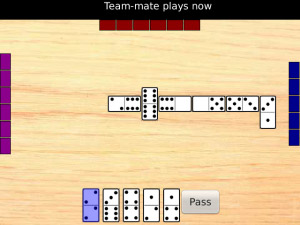 Tag:
Lagunex Domi
Overview :
Lagunex Domino v1.0.2 games for blackberry smartphone
File Size: 892 KB
Required Device Software:
Smartphone: 5.0.0 or higher

Description:
Thanks to BlackBerry Messenger (BBM) now you can play dominoes with all your friends.
Invite a partner, two opponents and start. You can check anytime all previous moves and the game notifies you when is your turn in case you send the game to the background.
But there is more:
- Unlock the Premium Version to set your own rules and to get rid of advertisement.
- With the Premium Version you can choose the way you score, who starts the hand and who is the winner in a blocked game.
- The Premium Version will let you change the appearance of your bones and table too.
- All players are able to accept your rules. Be the leader and decide the way you like to play!
Also remember that if you don't have any friends to play with, you can send them the game through BBM so they can download it. Invite everyone so you have a better chance to play anytime you want. And even if all your friends are busy at some moment, the game will fill automatically the remaining seats.
Leave a review and five stars if you like the game. If you have any doubts or require assistance, please contact us before leaving the review so we can help you. You can reach us using different channels:
- Go to http://lagunex.com/domino to read the FAQ and rules.
- Find us on Facebook and like us http://www.facebook.com/LagunexDomino
- Follow @LagunexDomino to get the latest news, comment your best games and meet new players.
- Send an email to carlosalberto.henriquez@yahoo.com to receive personal support with more than 140 characters ;)
***** IMPORTANT *****
* WE CAN'T REPLY YOUR REVIEWS. If you need assistance, please contact us using any of the channels mentioned before leaving the review.
* WHEN ASKING FOR SUPPORT, PLEASE EXPLAIN YOUR PROBLEM. We have received a lot of empty emails asking for support. We can't help you if you don't tell us what's happening.
***** ENJOY, SHARE AND PLAY DOMINOES ******