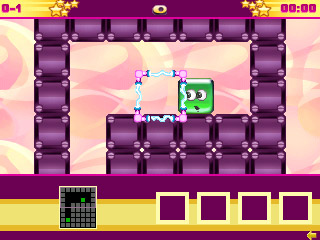 Tag:
Cubes
8700 games
Lively
Overview :
Lively Cubes - blackberry games download
Description:
Stick a big friendly face on anything and it suddenly becomes far more appealing. Our tendency to anthropomorphise inanimate objects even sees us visualising facial features where there are none.
We start seeing cars with giant googly eyes and toothy grins where, in actual fact, they possess fairly ordinary headlamps and radiator grilles.
It's pretty simple, then, to give an abstract match-three puzzle game a bit of personality by slapping a silly face on each of the blocks. That's exactly what Shamrock Games has done with Lively Cubes, and it works a treat.
Model:
Blackberry 8350i (320*240) Related Devices Model: 8500, 8520, 8530/Blackberry 83XX Series (320*240) Curve Devices Models: 8300, 8310, 8320, 8330 / Blackberry 87XX Series (320*240) Devices Models: 8700c, 8700r, 8700f, 8700g, 8703e, 8707, 8707g, 8707v .etc /Blackberry 88XX Series (320*240) Devices Models: 8800, 8820, 8830 .etc